To use any amenity please sign the Informed Consent, Release, & Waiver Agreement
Crystal Falls Lakes:
Both Lower and Upper Crystal Falls lakes have playgrounds, BBQ pits, tables, and horse shoe pits.
The lake hours are from dawn to dusk year-round, there are no lifeguards on site. Key cards are available to members.
Directions to Upper Crystal Falls lake.
No dogs allowed at the lakes.
The Stables:
The horse wrangler is at the stables in the off season from 8-10am and 3-5pm for feedings, visitors are welcome.
During riding season (Memorial Day weekend through Labor Day weekend) wrangler led rides are available to all Members. Please call 209-532-2218 Saturday or Sunday 9am-12noon to reserve.
We do request that visitors follow some guidelines when at the stables:
Do not groom, trim, feed, or otherwise hassle horses without the owner's permission. The horses are not CFA property and may have dietary or other restrictions.
Please do not enter any corral, stall, pasture, or go through a locked gate without permission.
People under age 14 must be accompanied by an adult.
We also offer a horse boarding program for members only.
Please call (209) 532-2218 for reservations or more information.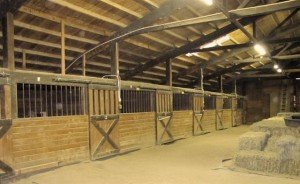 The Club House:
The clubhouse is available for rent for special events; it has a full kitchen, dance floor, eating area and limited lake access.
Contact the office via phone: (209)533-4877
Contact the office via email: crystalfallsranch@att.net
The clubhouse is located on the lower lake at 21725 Crystal Falls Dr. Sonora, CA 95370.
Basketball and Tennis Courts:
Basketball and Tennis Courts are also open to members. They are located next to the lower lake and club house.
Gym:
A community workout room has been set-up for our members.  Please come into the office or download Gym forms for access to the Gym facilities.  The Gym is located at 21666 Crystal Falls Dr.