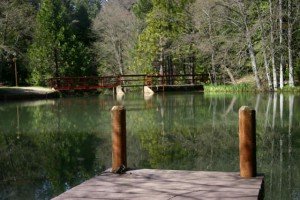 The Crystal Falls Association offers something for everyone, with year round exclusive access to the Lower and Upper Crystal Falls lakes and horse stables. There are many more family activities, such as, dances with live music at our annual meeting, hiking, swimming, basketball and tennis courts, clubhouse rental.  There is also an active neighborhood watch program, and fund raising events year round. Crystal Falls is an environment where singles, families and retirees can enjoy their time.
Crystal Falls History:
The Crystal Falls Association was founded in February 1967. A common desire of homeowners is what started the association. They wanted to create a place where full time families, weekenders and the retired, could enjoy. There was a great feeling of camaraderie, fellowship, and working together as a group to make Crystal Falls have the amenities they desired. The men banded together and built the fire house while the wives created the Crystal Falls Fire Auxiliary and thus the association was born.
We Would Like Your Help
The Crystal Falls Homeowner Association would like to connect with families to regain the feeling of camaraderie that the association once had. We are asking homeowners to participate in active meetings and take advantage of the many amenities,Crystal Falls offers exclusively to members. Spring cleaning the lakes and taking pride in where you live is also a huge part. Help us to succeed to keep the dream that the early homeowners once had. You too can be an active member in our lovely community!