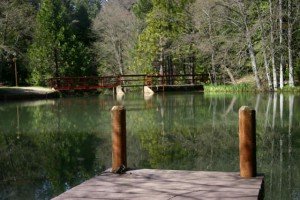 About Us:
The Crystal Falls Association offers something for everyone in our community. Year-round members have exclusive access to both the Upper and Lower Lakes. Horse boarding at our Barn is also exclusively available to members year-round as well as rental of our Clubhouse. There are many more family activities such as basketball and tennis, swimming and an annual meeting with live music, dancing and dinner. The Crystal Falls Association in located near many other Tuolumne County recreational opportunities such as ski areas, lakes, parks and casinos.  The Crystal Falls Association is named after our iconic water fall that spills water from Upper Crystal Falls into Lower Crystal Falls and adds beauty to the area. Due to the dangerous conditions of the falls and private property, the falls are for viewing only and hiking and climbing are prohibited.
CFA History:
Crystal Falls Homeowners Association was established in 1967. Its focus was on recreational opportunities, including 2 lakes for swimming, horse boarding for members owning horses, and trail rides for members, on CFA-owned horses. The clubhouse was completed early on. The site of our present gym (added in 2012) was originally a firehouse, manned by volunteers. For many years, the Women's Fire Auxiliary had fundraisers to support local volunteer fire houses. The tennis and basketball courts were added in 1993.
From the beginning, CFA sponsored year-round activities for members, including potlucks, dances, and holiday parties.